Top-notch video conferencing device manufacturers creating the best products, and often these manufacturers and products share some common characteristics. For example rich industry experience, strict quality control, excellent product appearance design, high-quality products, intelligent operating system, complete expansion interface, excellent functions, and so on.
We surveyed the top 11 video conferencing device manufacturers in 2022, and sort out the most classic product feature for each brand below.
Logitech
Swiss-based manufacturer of computers and mobile accessories. As a well-known manufacturer of video conferencing devices, they provide solutions for conference rooms of all sizes. At the same time, relying on its supply chain advantages, it can quickly give feedback to market demand. Such as Logitech MeetUp.
Logitech MeetUp
This all-in-one camera is specially designed for small or huddle rooms. Its 4K resolution and 5x zoom allow you to see all the meeting room details. With RightSight™ computer vision, MeetUp automatically adjusts camera position and zoom to find and frame everyone in the room.
However, the price of good products will not be cheap, and only one TV stand can be purchased for $100. Admittedly, the price is a bit high. if you're looking for a wide-angle camera, it's still a good choice.
Polycom
Polycom has nearly 30 years of experience in the audio and video industry. It is one of the world's most popular video conferencing device manufacturers. Its products have been sought after since the design draft. Their video conferencing system uses H.264 High Profile technology for full HD output. The Polycom RealPresence Group 700 is the most popular product.
Polycom RealPresence Group 700
The kit includes an EagleEye camera, microphone, the 700-1080 codec, power supply, cables, and remote. The Polycom Group 700 is designed for large conference rooms. Its price reflects this as well. It's expensive, but you get a perfect solution that's easy to use.
Aver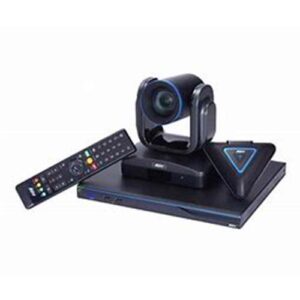 As a Taiwanese company, provides smart technologies and products for businesses and schools. It began to expand the global market in 2008. Their video conferencing equipment is simple in design and very functional.
AVer EVC950
This device has 18X fast zoom and convenient functions, such as one-key recording and sharing, and Voice activated layout switch. If you have an old video conference room and want to upgrade it, the AVer EVC950 would be a good choice. Although it is still expensive, its rich and useful features will greatly improve the meeting experience.
Cisco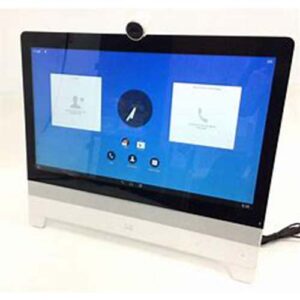 Cisco is an American videoconferencing equipment manufacturer and one of the most famous companies in the world. It has a production line of video conferencing equipment. In addition, it develops video conferencing software and provides customers with cloud storage solutions for meetings.
Cisco Webex DX80
The Cisco Webex DX80 is designed as an all-in-one collaboration center. It has a 23-inch screen and a high-definition camera, making communication efficient. It is compatible with Cisco Spark Board, making collaboration and sharing easier. This makes the DX80 more convenient than other products.
Jabra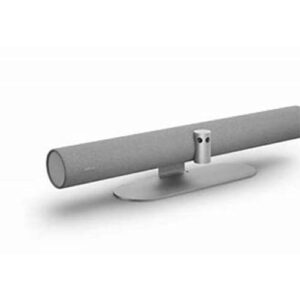 As a Danish brand, they provide professionals with smart headphones and communication technology. Now they're also starting to get into videoconferencing. With long-term research on audio products, their products have achieved the best in audio processing.
PanaCast 50
As the first intelligent all-in-one video bar, it has leading professional audio, innovative 180° video technology, and a series of unique intelligent functions. One-click meeting function, make your work more efficient.
Panasonic
Panasonic is a major Japanese multinational conglomerate corporation, with a wide range of products. The Panasonic HD Visual Communications System is a new visual communication tool that is different from previous video conference systems. With high image quality, high sound quality, and a stable connection have been achieved both with intranets and the Internet.
KX-VC2000
KX-VC2000's HD Visual Communications System reduces initial costs while enabling a 24-site connection. Its high image and sound quality are another very appealing point. And it allows people to participate in video conferences from anywhere via mobile devices.
Lifesize
Lifesize has extensive experience in augmented and virtual reality communications. Based on this, they were the first to add the innovation of interactive operation to their HD conferencing system. Provide customers with multi-user systems, cloud-based conference room solutions, and applications. Their system is logically clear, simple to operate, and very stylish in appearance.
Lifesize Icon 700
Supports dual monitors for easy sharing. Simple touch controls with Lifesize Phone HD. The free and simple zoom function allows you to see every detail.
While it will cost you a lot of money, it is worth it. With efficient software and quality hardware, your video conferencing system will always function normally.
Avaya
Over 150 million users worldwide. So you can be completely confident that Avaya video conferencing device has outstanding quality. Its flagship video conferencing device, XT5000, has been receiving high attention since its launch.
Avaya XT5000
To make collaboration easier, the XT5000 room system provides dual 1080p 60fps real-time video and content sharing. Allows users to freely choose among 5 cameras and other functions.
The system is ideal for large companies with multiple teams to collaborate on complex projects. You can make each team appear on one screen at the same time, and the communication efficiency is greatly improved. To maximize efficiency, these costs are well worth it.
EzTalks
Eztalks was founded in 2008, it provides users with a lot of excellent products. Some solutions are impressive, such as the Meet series of devices.
EzTalks Meet Mini
The Meet Mini consists of a 1080p camera, a large display, and an all-in-one hub. It is specially designed for small meeting rooms (1 ~ 3 people). It has cloud recording & storage functions, integrates with almost all video conferencing software, and also provides collaborative functions such as an online whiteboard.
Clearone
As a world-renowned audio and video manufacturer, Clearone has a global influence. Users cover government, schools, businesses, and individuals. They provide all of the components and accessories needed for exceptional cloud-based video conferencing.
Xceed BMA Room
This kit contains BMA CTX, UNITE 50 4K ePTZ Camera, Versa USB Hub, and Passive Wall Speakers. Provides users with high-definition 4K images with a 120° wide-angle field of view. Compatible with popular applications such as Microsoft® Teams, WebEx™, Zoom™, Google® Meet™, and more.
Eyqoo
Eyqoo corporation is devoted to providing top-grade remote collaboration solutions. Products include video conference cameras and microphones. Used in corporate online meetings, live streaming, education, and healthcare industries.
We have our R&D team, independent research and development of ISP algorithm, Auto Focus, Auto Exposure, Auto White Balance, and AI tracking algorithm, etc as a core competency.
This kit is specially designed for large video conference rooms, whether it is an upgrade of an existing conference room or a new large video conference room. The kit is equipped with a high-definition 4K camera, a 10-meter pickup microphone, and a convenient touch terminal. Setting up a large video conference couldn't be easier.
Summary
Video conferencing is becoming the mainstream of communication. Especially for emerging companies, the business is in its infancy and requires a lot of capital and energy to invest in R&D, production, and market development. As part of daily communication, video conferencing should not spend too much money and energy on it. Therefore, it is very important to choose the right product for them.